Please click the link below to see the Saturday November 4th Potluck Dinner Flyer – at a new location this year!
Please click the link below to see the 2023 Holiday flyer (Dec. 1st & 2nd)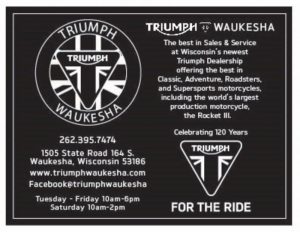 Click on the Annual Rally page on the menu bar at the top of this page for more Rally information and a registration form.

---
BBC-Sponsored Racer Dave Spanjar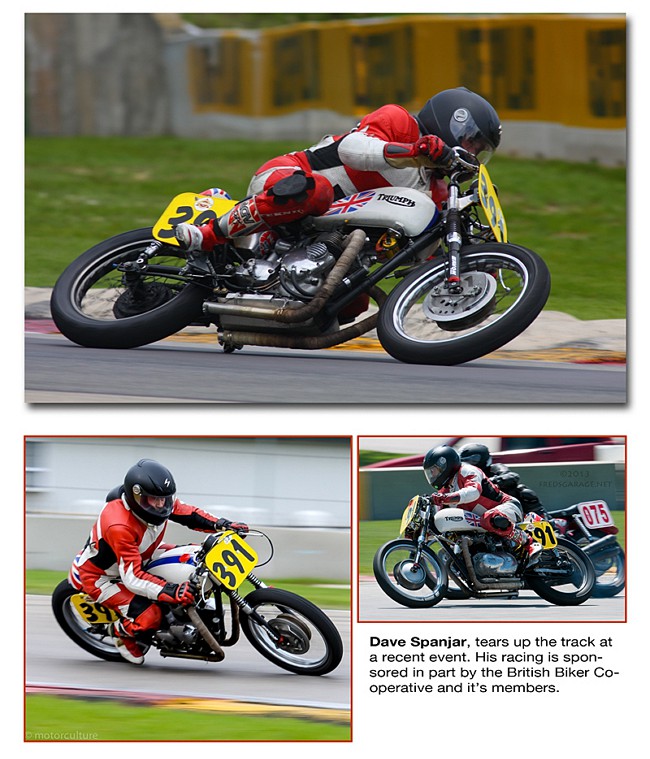 The race season final results are in. In the Midwest Region I finished 1st in the Classic 60's 650 class and 2nd in Sportsman 500. Nationally I am ranked 4th on the 650 and 6th on the 500. Great results for a less than complete season with 3 1st place finishes and 3 2nd place finishes on the 650 being a highlight of the season. Also scored a 2nd a 3 3rd place finishes with the 500 that I'm extremely proud of. A complete report can be found in the next "Knews". I want to thank each and everyone of you that supported me this year especially the British Biker Cooperative for choosing me as their club sponsored racer.
The British Biker Cooperative (BBC)
is a unique group of individuals dedicated to the preservation of the British motorcycle.
The BBC was established in 1977, and has remained active in all aspects of British motorcycling since. Our membership encompasses all British motorcycle enthusiasts. The collector, purist, racer, tourer, and riders of all backgrounds find contentment in our organization. Together we create a cooperative, networking the contacts, ideas and enthusiasm essential to ride and appreciate British motorcycles, most of which are virtually extinct.
The BBC is an incorporated entity governed by a Board of Directors and Officers elected biennially. Our yearly membership stands at approximately 150 plus members of which many own several British motorcycles.
Annually the BBC sponsors meetings, a rally & show, a benefit, a family picnic, a dinner, and a holiday party. We also participate as the BBC in many other motorcycle related events.
We publish The British Knews – a quarterly periodical including stories, and photos of memorable events, cartoons, drawings, poetry, technical tips, and limited advertisement.
To become a BBC Member you must own a British motorcycle, represent the BBC in a respectable manner, and pay the annual dues. For more information about becoming a member, open the Membership page located at the top.
---
OUR FEATURED LINK
Triumph Motorcycle History: History of Triumph