The 2023 Rally is scheduled for Friday, Saturday and Sunday July 21-22-23, 2023! Registration fee covers Friday and Saturday overnight camping!
All makes of motorcycles welcome!

Please click for registration form.

Registration form 2023
Please follow the link for directions and more information.

http://www.eaglecave.net/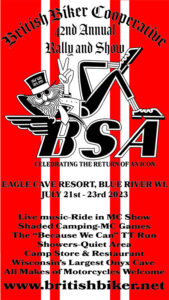 You tube video from the 2022 Rally. British Biker Cooperative (BBC) 41st Rally July 15th – 17th 2022 – YouTube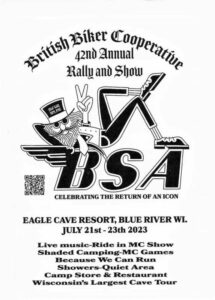 Iggy Rae Vicious will be our live music again this year. They were GREAT last year at the 2022 Rally.